Afbeelding
This time in "in the spotlight" our colleague Sander van Lokven. Sander is General Manager of Districon Solutions North America. To take on this role, Sander moved to Chicago with his family. He is keen to share his experiences.
Who are you?
My name is Sander van Lokven and I am working now for almost 10 years at Districon. I started right after finishing my Operations Research Master's degree at the Wageningen University. I joined Districon in 2010 as Supply Chain Consultant. 
From day 1, I have been applying advanced analytics to complex supply chain puzzles. The focus in the first few years lay mainly on data analytics and more strategic network optimization studies. Later, while setting up Districon Solutions, to build more tactical and operational optimization and Business Intelligence solutions.
Districon Solutions rapidly developed as the analytical heart within Districon and became more and more international. In 2017 we signed a multiyear partnership agreement with Peapod in Chicago which enabled us to branch out into the United States. At the end of 2017 I moved to Chicago and am now leading the Districon office for North America.
Thanks, Jochem, for passing on the spotlight to me. You were curious to learn more about how we are doing here on the other side of the pond, and I am eager to share.
Developing Districon Solutions North America
In 2017 we started as a small start-up in Chicago. Our work desks were at Peapod, and from there we tried to slowly build the company.
The mission was simple: 
Grow the customer base and develop successful partnerships
Build a local team
Set up a more permanent office 
Cherish the Districon culture
If our customer is successful, so are we. This has always been one of the core values of Districon. With Peapod as our launching customer we (first Casper, later also Richard) developed a slotting tool to increase productivity and reduce out of stocks in their 3 e-commerce warehouses and 30+ warerooms. We supported them in building their own competence center and trained their team on the job in modelling and solution design. Currently we are still working with Peapod in new projects on tote cubing and tactical fulfillment growth. Our role is shifting from developers to modelling coach and flexible work force.
This type of partnership has been a very important driver of our successes in the past year as well. Together with AIMMS we have been growing our network and established a partnership with 8 different multinationals in different business. In some cases, we are fully responsible for delivering custom made applications to optimize supply chain processes like production scheduling, inventory optimization or goods flow planning. However, mostly we work in a similar partnership role as coach and co-developer as we do with Peapod.
Another core value is the team: a single person hardly ever achieved greatness alone, and it spoils the fun. 
We started out working from the Peapod office. After 6 months we were happy to welcome our first new customers besides Peapod and started our journey to establish ourselves in a more permanent way. We found a beautiful office in Evanston, a small university city just north of Chicago and started hiring our local team with our first employee. From that moment we have been steadily growing to our current team of 5 in North America. During busier periods we employ additional Solution consultants from our HQ in Maarssen and started a local partnership with Norm Jerome. 
This year we also started with implementing the Districon Development Program. This program is developed at our HQ to provide training for our team in supply chain topics, consultancy skills and project management. Sharing trainings like this (occasionally face to face) helps in reducing the distance and culture gap between Chicago and Maarssen.
Living the American Dream
Two years ago, Districon made the step to the US, and so did my family. I am very thankful for the fact that my family joined the enthusiasm to start this adventure and even more thankful for how things are going with us all.
Having two kids, our initial focus was to get them integrated at school and socially. The community has been very open. Before we arrived, school arranged play dates with several kids in their classes. This was very welcoming and helped our kids and us integrate. 
Our kids did not speak any English when we moved. Within two months they started talking English, and now after two years, they are fluent and start correcting me and my wife from time to time.
We love living here mainly because of the genuine openness and positiveness of the people around us, the general feeling of freedom and space, the connection with nature, the beautiful city and the wonderful school. 
Obviously, we do miss our family, friends and colleagues in the Netherlands. We call and visit often but of course not as much as we should.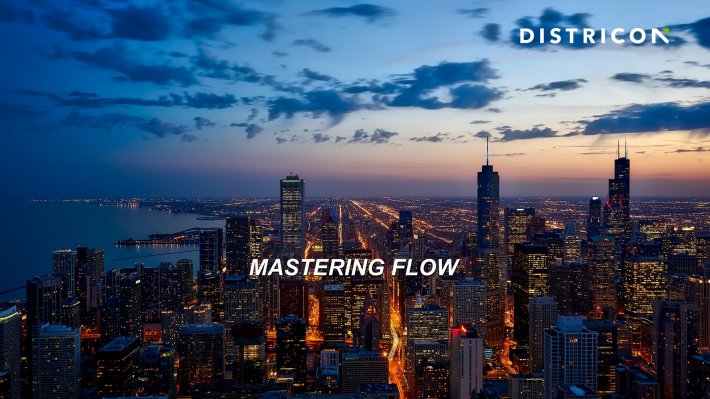 Stunning Chicago
Towards an amazing 2020
For 2020 we keep on building on the same pillars.
Supported by Christophe Frère and a further intensified partnership with AIMMS and with a strong focus on customer success we trust on continuing to grow fast. 
We also aim to strengthen our team further with 2 to 3 additional consultants. As our team becomes more mature and diverse, we will be more self-sufficient and independent and lean less on our HQ team. As the recruiting market is very competitive, we are looking to establish relationships with universities in the area and open up for interns. 
With the further growing team, we will also intensify the development program with additional focus on personal development. On top of this program we aim also to grow our capabilities in AI and Business Intelligence.  
Which colleague will be in the next spotlight?
For the next "in the Spotlight" I invite Michael Klaassen. He is one of our data magicians in our EMEA Solutions team and I am keen to learn about his experiences as one of Districon's 'flow masters'.